Our top 5 anti-ageing supplements and vitamins for youthful skin
The most effective anti-ageing skincare routine works on the skin's surface and deeper down. So equip yourself with clinically backed anti-ageing supplements tailored to your skin ageing concerns with our expert's guidance.
To explain the science behind the best anti-ageing vitamins, we've enlisted our Senior Research Scientist, Lauren Dewsbury BHSc, MRes. Keep reading to discover how you can maintain youthful skin, reduce wrinkles and improve uneven skin tone with the best anti-ageing supplements. 
Vitamin C
"Vitamin C is essential for life," shares Dewsbury. "As an antioxidant, it's an anti-ageing powerhouse which acts as an electron donor to neutralise free radicals." When supplemented in a multi-tasking skincare formula like Anti-G-Ox®, this means vitamin C helps defend skin against the damaging effects of busy, modern living – like sun exposure, pollution and stress. So you can support the natural ageing process and glowing, youthful skin long-term.
If you're experiencing dark spots, uneven skin tone and dark under-eyes, a targeted vitamin C supplement can improve signs of pigmentation too. In a formula like Radiance, "vitamin C can improve signs of photo-ageing by regulating the over production of melanin that leads to pigmentation." Meaning your skin stays bright and even with one daily capsule.
Collagen
Collagen is the building blocks of our skin, hair and nails. But say as we age, our collagen production and reserves naturally decline. So consistent supplementation with a collagen peptide powder is a clinically proven way to reduce signs of ageing.
To make the most of the best anti-wrinkle supplements, choose a quality, hydrolysed marine collagen. "Through enzymatic hydrolysation, Vida Glow breaks down raw marine collagen into small peptides and amino acids," explains Dewsbury. "This allows the collagen to pass through the cells that line the gut – called epithelial cells – with a high absorption rate into the bloodstream." From here, this anti-ageing supplement is distributed throughout the body and replenishes the 'pool' of amino acids used to produce collagen. Within weeks, you'll see plump, firm skin and thick hair and strong nails.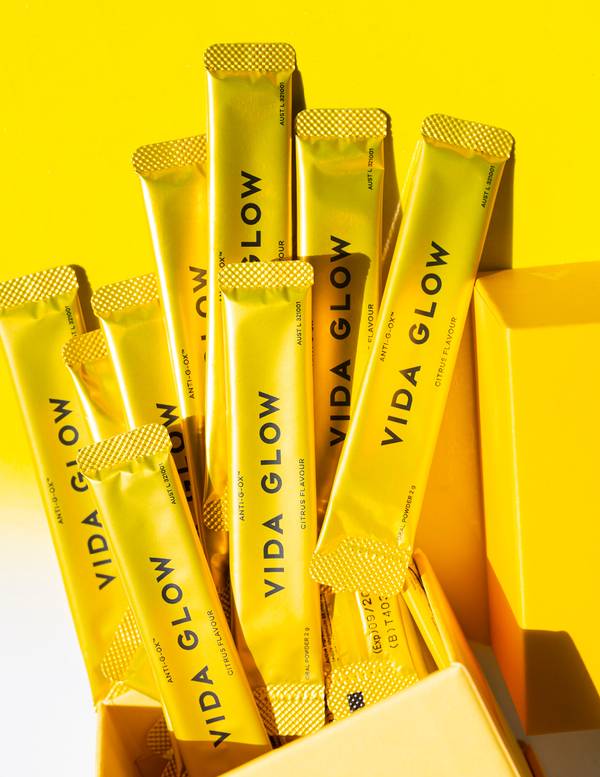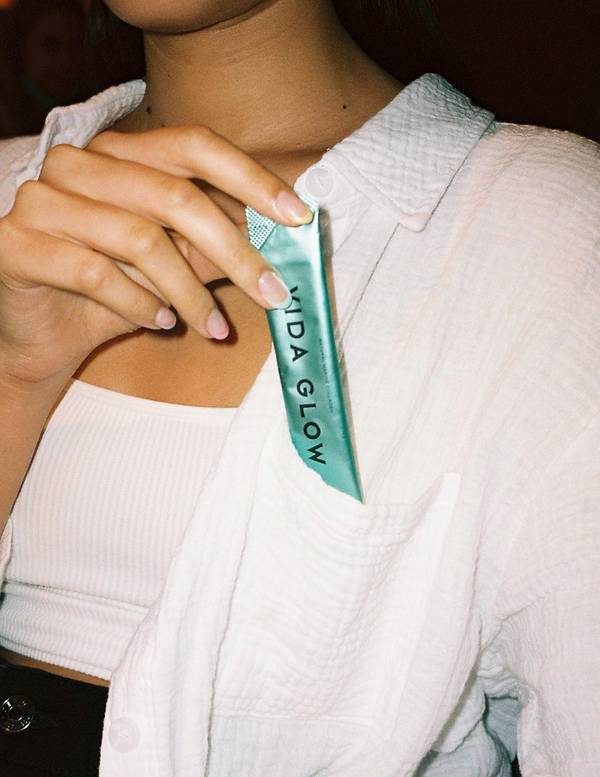 Vitamin E
"Another antioxidant, vitamin E strengthens the skin barrier and protects the skin," says Dewsbury. To help reduce the damaging effects of radiation from the sun, vitamin E acts as a free-radical scavenger in anti-ageing supplements and can help support our skin's natural inflammatory response. "In fact," adds Dewsbury, "multiple studies have found that the combination of vitamin C and vitamin E can help to protect the skin against UV damage. But they in no way replace your SPF!".
If you're naturally dry and dehydrated, vitamin E also has anti-inflammatory and antioxidant properties. This combats the sensitising effects of free radical damage and helps maintain our skin's moisture and water content. For sensitive or dry skin, this means vitamin E is an essential in anti-ageing supplements like Anti-G-Ox®. 
Zinc
"Zinc is a trace mineral that is absolutely essential. It acts as a co-factor for over 300 enzymes in the body, so it's vital for our antioxidant defence system," shares Dewsbury. And with its restorative properties, Dewsbury says zinc holds benefits for a range of skin concerns like stressed, dull skin and breakouts.
A once-daily, clinically backed sachet, Anti-G-Ox® is formulated with zinc. By adding zinc to your anti-ageing supplements, it will help maintain your skin health and a balanced and even complexion.
Curcumin
Curcumin is a compound extracted from turmeric. "It's a potent antioxidant with anti-inflammatory effects. And it's one of the most widely studied herbal extracts available," says Dewsbury.
For optimum absorption and maximum efficacy, Anti-G-Ox® is formulated with HydroCurc™, an easy-to-supplement version of curcumin. Working in synergy with Anti-G-Ox®'s nine other actives, curcumin performs multiple roles. "It scavenges for free radicals, meaning it can neutralise environmental aggressors in the body, so they can't cause any further damage." And it can also inhibit inflammatory pathways in the body to help reduce inflammation. So skin is strong and resilient and premature ageing is prevented on a cellular level.
Anti-ageing supplements are a skincare must-have for youthful skin. By working from the inside out with the best anti-ageing supplements, your ingestible beauty routine can soften – and even prevent – signs of skin ageing. And with proven, visible results.
Want to learn more about Anti-G-Ox®? Discover the world's first effervescent beauty powder here.
SHOP THE STORY