The full effect: How to take collagen for maximum benefit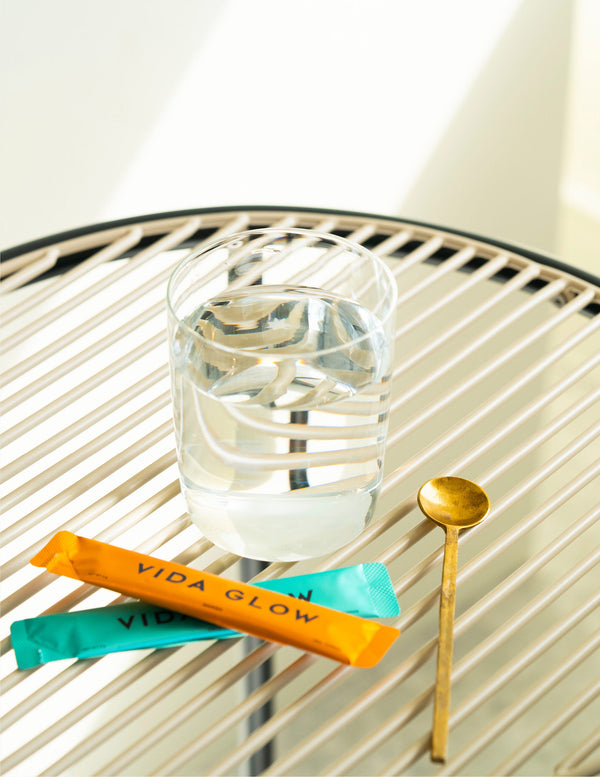 As a leader in ingestible beauty and the world's number one marine collagen brand, we set out to deliver expert-backed education. By breaking-down the science behind marine collagen and how to take collagen to supercharge its results, here we answer the ultimate question: does drinking collagen work?
Why should I take collagen? 
Taking collagen is a clinically proven way to enhance skin, hair and nails from the inside out. When marine collagen is hydrolysed, bioavailable and supplemented consistently, you will maximise the benefits of collagen supplementation and see visible results in weeks.
If you're new to taking collagen, keep this in mind when creating an ingestible beauty routine and find everything you need to know about drinking collagen below.
What is the best way to take collagen?
No matter how you're drinking collagen, consistency is key with ingestible beauty. So the best way to take collagen is to supplement marine collagen daily in a flavour and routine that suits you. 
What to drink collagen with depends on your personal preference and favourite flavours Vida Glow Natural Marine Collagen is available in unflavoured Original and four natural flavours, including best-sellers Blueberry and Peach. These fruit-infused sachets of marine collagen are popular stirred into chilled water or green teas – or can be added to sparkling water for a refreshing sip with beauty benefits.
If you're looking to strengthen skin, hair and nails while increasing your water intake, Vida Glow Mango and Pineapple give chilled water a bright boost – as the perfect summer collagen drink.
For a multitasking coffee in the morning hustle, Vida Glow Original sachets can also be supplemented as a collagen coffee – for caffeine and a skin-firming treatment in one.
SHOP THE STORY
What is the best time of the day to drink collagen?
Clinical research about when you should drink collagen is inconclusive – so create a supplementation schedule that fits into your daily routine, and you'll see the best results.
If you're supplementing two or three serves of marine collagen daily, it's best to take each serve one at a time throughout the day – one in the morning, one at midday and one in the evening. This maximises absorption in the body.
What is the best form of collagen to take? Pills, liquid or powder?
Collagen supplements are available as powders, pills or liquids – but collagen is most efficacious as a hydrolysed marine collagen powder drink, like Natural Marine Collagen.
Vida Glow marine collagen is naturally hydrolysed with enzymes, which breaks down raw, 'native' marine collagen peptides into bioavailable amino acids. These amino acids are the building blocks of the body's natural collagen production. Unlike native collagen peptides which have a high molecular weight and are poorly absorbed, hydrolysed marine collagen is efficiently absorbed through the lining of the stomach. By ingesting collagen as collagen water, marine collagen amino acids enter the bloodstream with an absorption rate above 90% – for heightened collagen uses and firmer skin, stronger hair and healthy nails, fast.
By contrast, pills and capsules add an extra barrier to absorption while powder and liquid collagen supplements are readily available for the body to absorb.
Should I take collagen on an empty stomach?
Yes, collagen can be taken on an empty stomach without causing stomach upset. While further research is needed, some suggest taking marine collagen on an empty stomach increases its absorption. It is just advised to not exceed more than 10 grams of marine collagen a day (no more than three Vida Glow Natural Marine Collagen sachets or scoops).
How to take collagen powder? On its own or with food?
Drinking collagen before and after eating is effective and safe, it's a matter of which suits your routine best. While marine collagen can be supplemented mixed into meals if desired, it's well tolerated by many and doesn't need to be taken with a meal.
What does collagen taste like?
Vida Glow Natural Marine Collagen is a fine powder from high-quality fish skin. Our Original flavour is tasteless when blended with flavoured drinks like tea, coffee or juice. For those with sensitive tastes or wanting to take collagen straight in water, we suggest our fruit-infused flavoured options.
Can collagen be mixed with coffee?
Yes, Vida Glow Natural Marine Collagen can be mixed with coffee. For regular coffee drinkers, 'collagen coffee' is must-try with a sachet of Original.
How does heat affect collagen?
Vida Glow Natural Marine Collagen range is heat stable – so its efficacy, taste and texture aren't affected by heat.
Whether it's an ice-cold sip or warm and comforting cup, the way to take collagen is to find a supplementation method that you can commit to it. Taking collagen should enjoyable. Glowing skin, healthy hair and fast-growing nails are only a daily glass of water or coffee away.
Want to know how supermodel Irina Shayk takes her Vida Glow Natural Marine Collagen? Find out here. 
SHOP THE STORY