Five collagen benefits for your skin
From anti-ageing skin, hair and nails to promoting a glowing complexion, the benefits of taking collagen are just about endless. It's made the benefits of drinking collagen a staple in modern skincare routines and fast-paced days.
So if you're new to collagen supplementation, this is what you need to know about collagen benefits for skin. Plus, we're breaking down five tangible ways you can see the benefits of drinking collagen in your complexion.
Is collagen good for skin?
Yes – it's the foundation of our skin's structure, texture and plumpness. By restoring collagen as our natural reserves decline with age, consistent collagen supplementation with a marine collagen peptide powder achieves the best results for you skin health and glow.
And by supplementing with a quality formula like Vida Glow's Natural Marine Collagen, side effects of collagen are highly unlikely too as our formulation undergoes rigorous and routine quality and safety checks. Ensuring safe supplementation and real results.
What collagen is best for skin? 
The best collagen for skin is a hydrolysed marine collagen powder. Hydrolysation is a natural, enzymatic process which breakdowns down large, 'native' collagen peptides into smaller amino acids. This creates a fine, water-soluble powder that's effectively absorbed by the body and easy to supplement in drinks like water, tea and coffee. So you see clinically proven collagen benefits for skin in just weeks.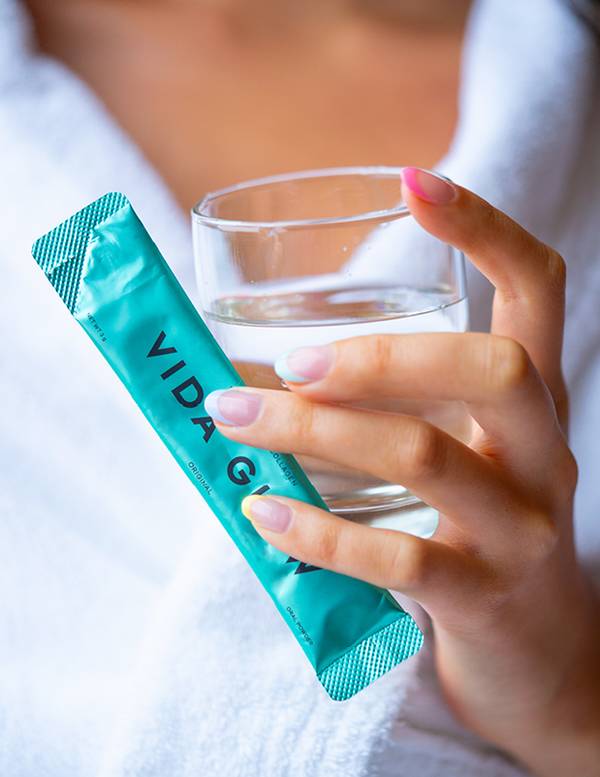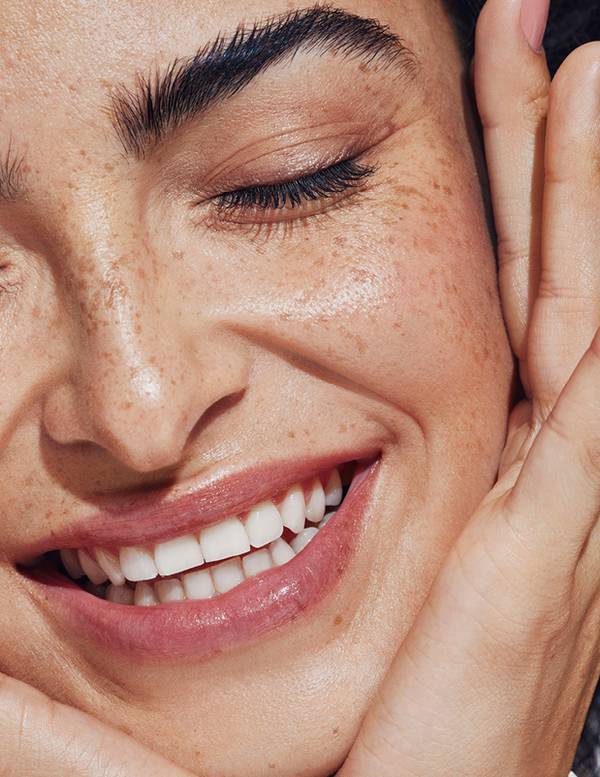 What are the benefits of taking collagen?
By improving your skin health and addressing ageing concerns deep in the skin's dermis, there are many benefits of drinking collagen for skin.
Stimulating collagen production with a hydrolysed collagen supplement is clinically proven to deliver visible results in weeks. This is what you can expect by adding Vida Glow to your routine.  
1. Reduce dryness
If your skin is naturally dry or dehydrated, adding just one daily sachet of collagen to your routine can reduce dryness. Stimulating collagen with a collagen supplement helps to restore skin's water content and improve skin's structure, so your skin looks and stays hydrated. 
2. Improve skin elasticity
Collagen and elastin work hand-in-hand to maintain youthful skin. But just like collagen, our elastin degrades with age, and a crepeing effect appears around our eyes and lips.
To restore skin's supple surface, daily collagen supplementation has been proven to improve skin elasticity. So fine lines start to smooth over, and skin takes on a 'bouncy' effect.
3. Smooth fine lines
Collagen supplementation replenishes collagen and strengthens the collagen matrix. As this happens, collagen supplements smooth fine lines. And with clinically proven, visible results in just weeks, smoothing fines is one of the strongest benefits of drinking collagen. 
4. Reduces visible wrinkles
As skin becomes stronger and elasticity is restored, visible wrinkles begin to reduce too. It's so effective that one of London's most in-demand Cosmetic Doctors, Dr Ewoma, suggests marine collagen as part of a wider skincare routine. So if you reach for injectables or anti-ageing skincare, a collagen supplement is an easy and effect way to boost your results and reduce visible wrinkles.
5. Promotes glowing skin
Whether you're seeing deeper wrinkles or just want to maintain a youthful complexion, collagen promotes glowing skin. 
If you're new to collagen supplementation or noticing the first signs of ageing, try adding one daily sachet to restore your glow. Then up your daily dose to two or three serves to reduce visible wrinkles – and increase collagen benefits for skin.
The five benefits of collagen for skin make collagen supplementation an essential skincare step. And by starting your new Vida Glow routine, you'll experience firm, smooth and glowing skin.
Want to know which is the best collagen for skin? Keep reading here.   
SHOP THE STORY