Banish dryness. This is the hydration boost your skin needs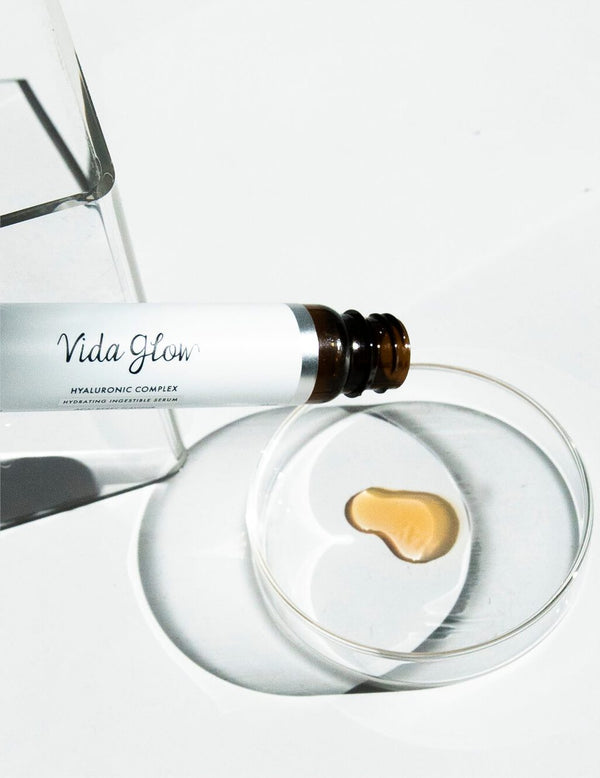 Now is a perfect time to start thinking about moisturising from within to help nourish your body and complexion into balance.
It's no secret. Despite our best intentions, we all feel and see the effects of winter manifest in our skin – thirsty, tight and a bit lacklustre. It's simple, really. As the temperature drops, so does your skin's ability to retain much-needed moisture. Meaning cold air and low humidity levels (tack on harsh winds too) strip you of your natural oils and cause the water in our skin to evaporate more quickly.
Whether you're looking to build up your winter protection, suffer from chronic dryness or are experiencing dehydration, our ingestible Hyaluronic Complex can offer some specialised relief.
Hyaluronic acid 101
Hyaluronic acid, or HA for short, is a sugary molecule that occurs naturally in the skin's structure and connective tissue throughout your body. Essentially, its main function is to retain water and keep your skin hydrated and plump.
As skin ages, it loses its natural ability to retain moisture – meaning the amount of naturally occurring hyaluronic acid in your body decreases. This can cause your skin to feel and appear tired and dehydrated.
Dryness and dehydration – there is a difference
Did you know that dryness and dehydration are actually two very different things? Dryness refers to a specific skin type characterised by fewer oil-producing glands, while dehydration refers to a skin condition defined by a lack of water. Though, it's important to note that it's entirely possible to struggle with both. So, with that said, we think it's best to cover all the bases when it comes to upping your skin's defences.
What's the hype around ingestible hyaluronic acid?
Sure, topical nourishment is important, but moisturising your skin from the inside out is also crucial. Daily serums and moisturisers target the outermost layer and don't properly penetrate the skin's surface. Treating dryness from within allows for a targeted approach.
Ingestible hyaluronic acid has a stronger systemic effect. It's transferred by the blood and lymphatic system, stimulating the production of naturally occurring HA in the body. The result? A soothed, hydrated and restored complexion.
The ingredients fighting the skin-damaging effects of winter
Seasonal changes can really affect the way your skin looks and behaves. Cold air causes skin to dry out and become irritated, it tightens pores, hinders circulation and reduces sebum production. Low humidity and hot showers in winter also contribute to dehydration – which is why it's so important to keep your skin barrier fighting fit against environmental aggressors and fuel it with the goodness it needs.
Our acai berry flavoured ingestible hyaluronic acid serum supports cellular hydration, reduces damage, enhances skin water content, soothes dryness and strengthens the skin barrier.
In addition to hyaluronic acid, eight other synergistic actives (acai extract, gotu kola, Vitamin C, zinc, CoQ10, lycopene, biotin and nicotinamide) boost the formula for a surge of hydration. Dull, sensitised winter skin? Forget it.
Upgrade your daily regime
At Vida Glow, we want to create specialised products that fit comfortably into your current routine – no matter how busy life gets.
We have pre-measured the optimal dosage of ingestible HA (100mg) and eight other skin-loving actives into each individual ampoule of Hyaluronic Complex.
Room temperature or chilled, there's no need to mix with water or food. It's designed to accompany you anywhere, anytime – just shake, open, sip and enjoy.
Depending on your skin's hydration needs, supplementation can be periodic or continuous. For optimal results, we recommend taking one to two ampoules per day.